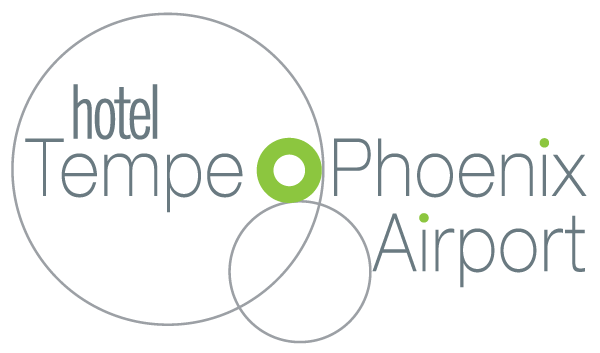 Hotel Tempe/Phoenix Airport InnSuites Hotel & Suites
Hotel In Tempe
Features heated pool/spa, tennis, basketball, jogging. Located at I-10 and Baseline Road adjacent to Arizona Mills Mall with IMAX, and Phoenix South Mountain Resort Golf with free transportation to and from Phoenix Sky Harbor International Airport (PHX). Easy access to Arizona State University (ASU), Tempe Town Lake, Sun Devil Stadium, downtown Phoenix Convention Center, Chase Field Arizona Diamondbacks baseball, US Airways Arena Suns basketball and East Valley Mesa, Gilbert, Chandler and Scottsdale.
1651 West Baseline Road, Tempe, AZ 85283 | Phone: 480-897-7900
Gift Vouchers
Hotel Tempe Phoenix Airport Amenities
The Hotel Tempe Phoenix Airport strives to provide our guests with the highest quality of service, exceptional value and free hotel amenities you expect when you vacation in the Phoenix area.
Our personable staff is available 24 hours a day to assist guests with any request that they may have during their hotel stay in Tempe.
Hotel Tempe Phoenix Airport Features:
Free Phoenix Sky Harbor Airport Shuttle 24 Hours Top of every Hours
Free Hot Healthy Full Breakfast Buffet 6.30AM – 10AM
Free Daily Newspaper
Free Evening Social Hour 5:00PM – 6:30PM
Free Business Center with High Speed Internet Computers and Printer plus Limited Free
Copies and Faxes
Free Fitness Center
Free Manager's Barbeque the first Wednesday of every month
Free Barbeque Gas Grills
Free Parking/Bus, Car, Truck, RV
Heated Pool year-round
Patio Area / Sundeck
Tennis Courts / Basketball
Large Meeting Room Facilities
Walking and Jogging Trails in nearby South Mountain Park Preserve
Guest Laundry, Ice Machines, Beverages/Snacks
Pet Friendly subject to availability upon request
24 hour Front Desk
Safe Deposit Box
These and many other free and convenient hotel amenities make the Hotel Tempe/Phoenix Airport InnSuites Hotel & Suites "Your Boutique Suite Choice Value"! We appreciate you, and it shows.
Hotel Tempe Phoenix Airport Guestrooms
Hotel Tempe Phoenix Airport Studio InnSuites, 2-Room Executive/Family Suites and Presidential Jacuzzi Suites Include:
Pillowtop Cloud 9 Beds with Deluxe Bedding
Large TV's with Premier Cable Movie Channels
Microwave/Refrigerator
Coffee/Tea Maker with Coffee & Tea
Free Hi-Speed and Wi-Fi Internet Access
Upgraded Bath amenities
Sofa bed in the Living Room of All Executive/Family & Presidential Suites
AM/FM Clock Radios
Hairdryer
Air Conditioning and Heat with Wall-mounted Thermostat
Iron and Board
Electronic Locks
Handicap Accessible
Free Local Long Distance to USA, Canada, Mexico and Europe Phone Calls Up to 20 minutes
Smoking/Non-Smoking subject to availability upon request
These and many other free and convenient suite amenities make the Hotel Tempe/Phoenix Airport InnSuites Hotel & Suites "Your Boutique Suite Choice Value"! We appreciate you, and it shows.
Hotel Tempe Phoenix Airport Contact
Hotel Tempe/Phoenix Airport InnSuites Hotel & Suites is here to serve you 24 hours a day.
Please contact us by phone, email or fax.
Our contact information is:
1651 West Baseline Road Tempe, Arizona 85283
Phone: (480) 897-7900
tempe@innsuites.com
Hotel Tempe Phoenix Airport Smoking Rooms
On behalf of Hotel Tempe/Phoenix Airport InnSuites Hotel & Suites, we would like to welcome you to our smoking friendly hotel.
We strive to ensure all guests (smoking and non-smoking) experience a comfortable, memorable and safe stay with us.
Please call ahead to ensure we have availability and smoking studios and suites available.
We look forward to serving you.
Hotel Tempe Phoenix Airport Non Smoking Rooms
On behalf of Hotel Tempe/Phoenix Airport InnSuites Hotel & Suites, we would like to welcome you to our non-smoking friendly hotel.
We strive to ensure all guests (non-smoking and smoking) experience a comfortable, memorable and safe stay with us.
Please call ahead to ensure we have availability and non-smoking studios and suites available.
We look forward to serving you.
Hotel Tempe Phoenix Airport Pet Friendly
WE ARE A PET FRIENDLY HOTEL
Hotel Tempe Phoenix Airport InnSuites is a pet friendly hotel that understands pets are an extension of your family. We gladly welcome guests traveling with their pets. There is a $10.00 plus tax per night pet fee (not to exceed $50.00 plus tax per week).
Damages caused by pets are the owner's responsibility in addition to the pet free and will be charged accordingly.
Pet fee is nonrefundable.
Please call ahead to ensure we have availability and pet friendly studios available.
We look forward to serving you.
Hotel Tempe Phoenix Airport Specials
AIA Offer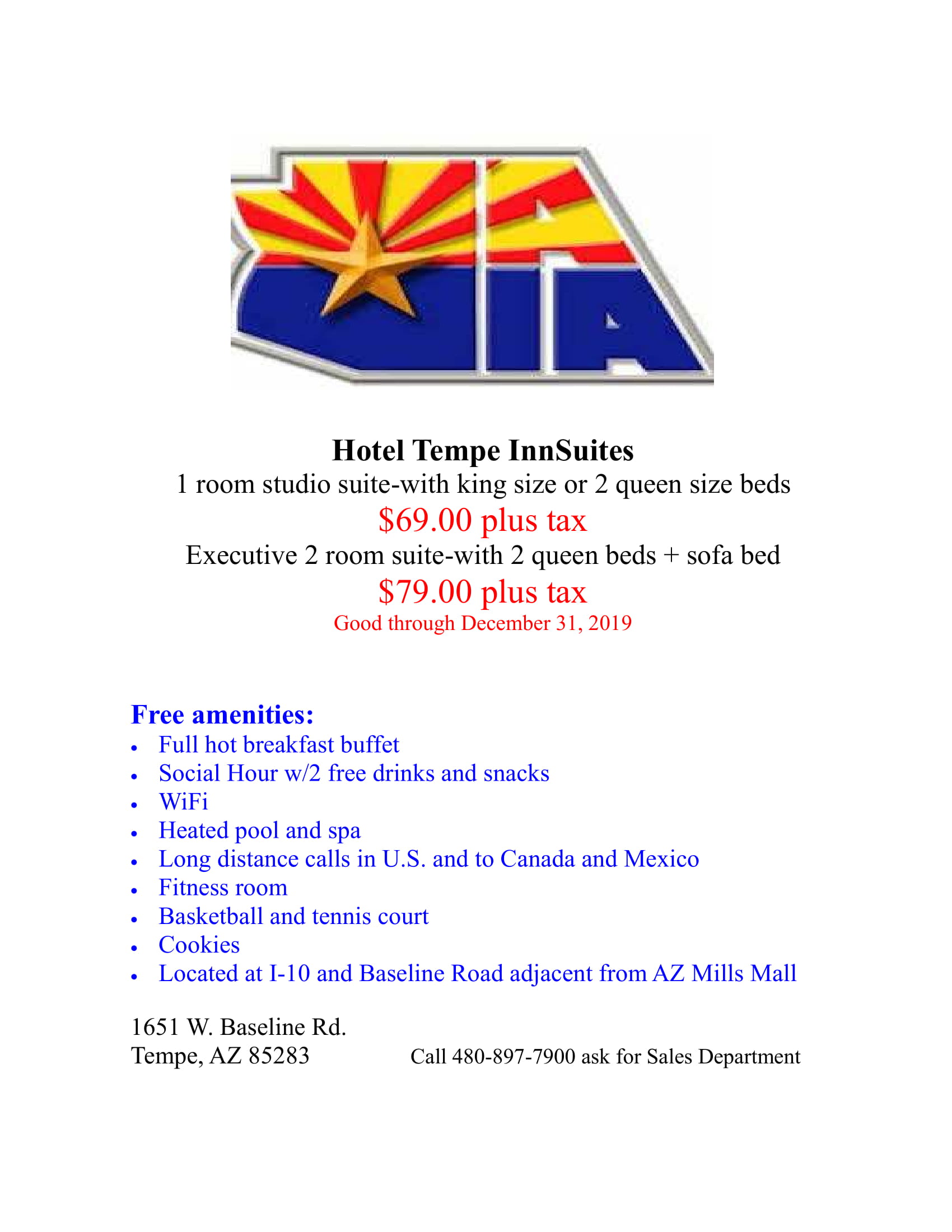 ---
Chill Offer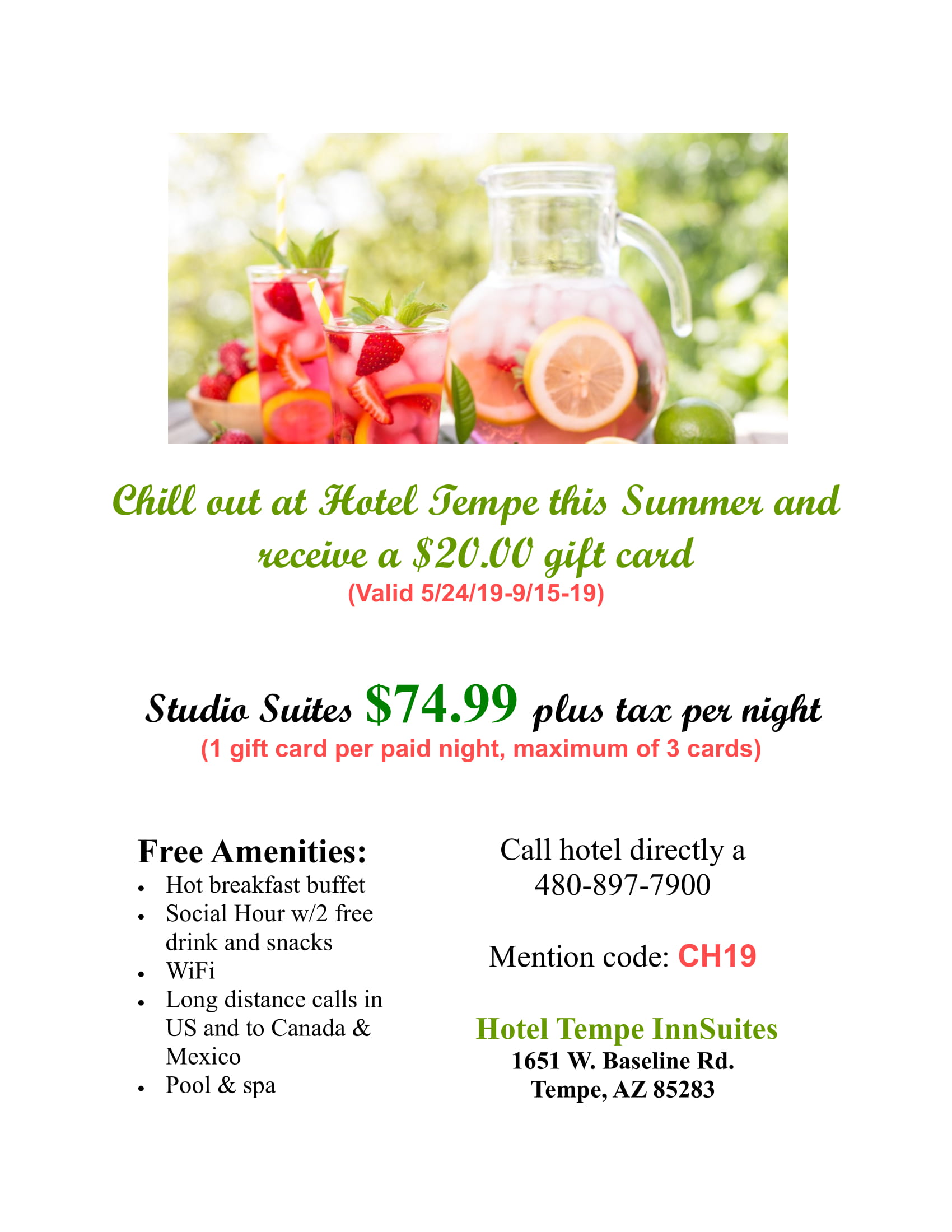 ---
Hip Hop Offer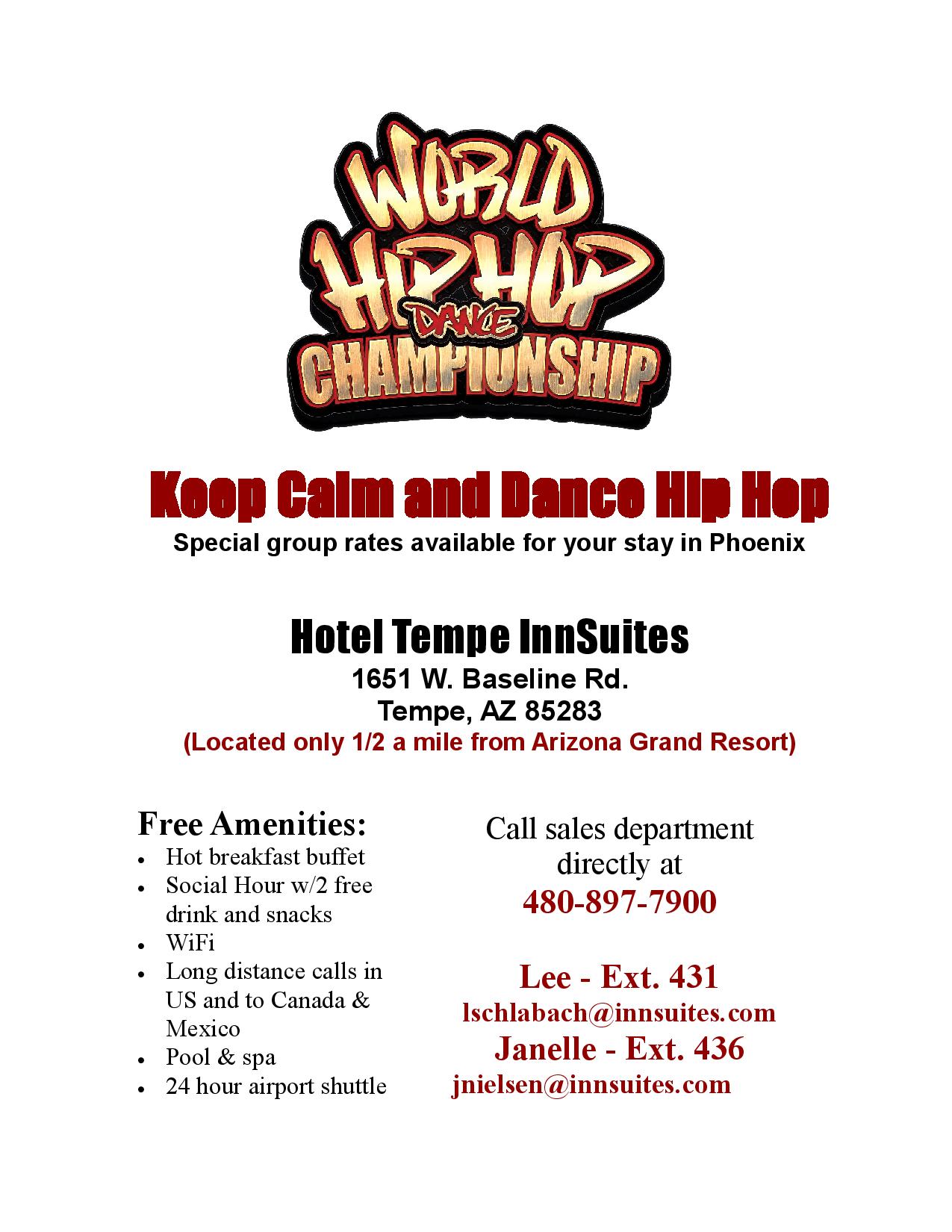 ---
THE CONSTRUCTION INDUSTRY SPECIAL
---
All Studios & Suites include:
FREE Convenient WiFi and high speed internet
FREE Hot healthy breakfast buffet featuring waffle & yogurt bars, delicious eggs, potatoes and more
FREE evening social hour: beer, wine, soda and light snacks
FREE airport transportation
FREE local & long distance telephone calls to US, Canada and Mexico (up to 20 minutes)
Cloud 9 comfortable upgraded bedding collection with pillowtop beds & triple sheeting
Microwave, refrigerator, large flat screen TV, coffee maker, tea and more
---
Pet Special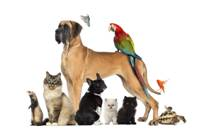 We understand your pet is part of the family, so we say, bring them along! Special discounted rates include treats, chew toys and feeding bowls for your Pet. So pack the leash and enjoy a vacation with your furry friend at our pet-friendly hotel! Make your reservations directly today or call for details.
CODE: PET15
---
Family Fun Vacation
Bring your family to the Fun in the Sun! Kids under 17 years of age stay FREE! Kids will enjoy a special gift such as coloring books, crayons, and toys just for them, and parents will appreciate special savings on amazing suites.
CODE: FAM15
---
Park n Fly
Park n Fly
Reserve any suite, any time
Free transportation to/from Phoenix's Sky Harbor International Airport (Daily from 6am – 10pm)
Free parking for up to 14 days
Good now and forever
Booking code: PNF
Go Social!
Like us on Facebook and receive 10% off!
Good always
Booking code: FBLIKE
Tempe/Phoenix Arizona Outdoor Attractions & Activities
With over 300 days of sunshine per year, Phoenix is the ideal location for outdoor activities with dry warm fantastic year-round weather.
Mild winters make Phoenix a year-round destination.
Only ½ mile from the hotel is Phoenix Mountain Preserve which provides excellent terrain for hiking and mountain biking.
Within 10 minutes, enjoy Camelback Mountain for hiking and viewing the entire Valley.
The city's location lends itself to hot air ballooning, cycling, golfing, rock climbing, bouldering, geocaching, bird watching, fishing, horseback riding and much more.
There are over 140 outdoor activities in Phoenix but the most popular outdoor activities are golfing, hiking, horseback riding, hot air balloons and scenic day trips in to the nearby desert or to one of the nearby mountain towns.
• South Mountain Park/Preserve
10919 South Central Avenue
Phoenix, AZ 85041
Ph (602) 534-6324
A half-mile from the hotel and at over 16,000 acres, South Mountain Park/Preserve often is referred to as the largest municipal park in the country. It boasts 51 miles of primary trails for horseback riding, hiking and mountain biking for all ability levels skills. But you don't have to fight crowds to enjoy the area – the 51 miles of trails allow you to enjoy the glory of the Sonoran Desert in relative solitude.
• Camelback Mountain
East McDonald Drive at Tatum Boulevard
Phoenix, AZ
Ph (602) 256-3220
Camelback Mountain, is the premier Phoenix landmark. Tilted layers of red rocks resemble a camel's head and a reclining back. The "camel" can be seen on the left (west) end, lying on a much larger and higher mass (the "Camel's" hump) of Summit elevation is 2704 ft (824 m) — the peak rises about 1600 ft (488 m) above the elevation of downtown Phoenix.
•Parks/Lakes
Kiwanis Park
6111 South All-America Way
Tempe, AZ 85283
Ph (480) 350-5201
The Kiwanis Recreation Center is owned and operated by the City of Tempe. The facility includes an indoor wave pool with spiral slide, full service snack bar, full size multi-use gymnasium, fifteen lighted tennis courts, outdoor sand volleyball courts, classrooms, and outdoor picnic areas. The center offers numerous activities for the community including instructional classes, sport camps and leagues, birthday parties and much more.
• Tempe Town Lake
620 N. Mill Avenue
Tempe, Arizona
Ph (480) 350-8625
Tempe Town Lake offers numerous recreational opportunities. The lake features 220-acres of water for boating and fishing as well as more than five miles of paths for bicycling, skating, jogging and walking. In the heart of Tempe Town Lake is the historic Tempe Beach Park. The park connects to the 5 miles of paths for bicycling, jogging or in-line skating that circle Town Lake. The Splash Playground at Tempe Beach Park lets children cool off and have fun at Tempe Town Lake. The one-acre playground teaches how a drop of rain falls from the sky and ends up either in the ocean or becomes part of the city water supply.
• Lake Cruise
Rio Lago Cruise on Tempe Town Lake
401 S. 2nd Ave.
Phoenix, AZ 85003
Ph (480) 517-4050
Boat tours, charters and rentals. Boats available for large and small events. Pedal boats, ocean kayaks and charter boats.
• Tours/Horseback Riding/Ballooning
Red Rock Western Jeep Tours
928-282-6667 or 800-848-7728
"Western hospitality for over 24 years in Sedona"
Ask about our special negotiated rates with Hotel Tempe/Phoenix Airport InnSuites!
• Cave Creek Trailrides
623-742-6700 or 877-942-6700
Cave Creek Trailrides is offering horse trailrides to the recreating public providing outstanding customer service. We offer 1 hour, 1.5 hour, 2 hour, 3 hour and Sunset rides of 1 hour or 1.5 hour in length. Ask about our special negotiated rates with Hotel Tempe/Phoenix Airport InnSuites!
• Aerogelic Ballooning
17822 N 10th Ave
Phoenix, AZ 85023
Ph (866)359-8329
Aerogelic Ballooning offers adventures anywhere in Arizona. An aerial tour along with postflight champagne and continental brunch.
• Arizona Desert Mountain Tours
6303 E Cochise
Scottsdale, AZ 85253
Ph (480) 860-1777
A wonderful world of adventure awaits you at Arizona Desert Mountain Jeep Tours. They cater to individuals, families, or groups. Being the oldest and one of the largest tour companies they can accommodate groups of 2 to 400 people!
• Open Road Tours
522 E Dunlap
Phoenix, AZ 85020
Ph (800)766-7117
Fax (602)997-2276
Open Road offers sightseeing and adventures including the Grand Canyon, Sedona, city tours and more. Let us design your vacation!
• Across Arizona Tours
3213 E Rosemonte Dr.
Phoenix, AZ 85050
Ph (602) 233-1813
Across Arizona Tours is dedicated to quality and to your complete satisfaction. Our staff is the most professional in Arizona. Our tours are conducted by the finest guides in deluxe vehicles.
• Adventure Jeep Tours
13626 S 32nd Street
Phoenix, AZ 85044
Ph (480) 510-5247
Drive a Jeep Rubicon through Arizona's rugged and beautiful backcountry. Rentals and guided tours available. In either case you drive the most capable Jeep 4×4 ever produced.
• Vaughan's Southwest Custom Tours
PO Box 31250
Phoenix, AZ 85046
Ph (800)513-1381
Fax (602)992-5596
Celebrating 21 years of Excellence! Scheduled one-day van tours. Grand Canyon & Navajo Indian Reservation, Sedona with Montezuma's Castle and Jerome, Los Algodones (Mexico), Apache Trail with Dolly's Steamboat, local city tour with Pueblo Grande Museum. Our knowledgeable staff awaits your call.
• Arizona Classic Jeep Tours
938 W Glenrosa Ave
Phoenix, AZ 85013
Ph (602) 264-8433
Sunset/sunrise tours, authentic Western cookouts, horseback rides. Custom group tours and catered events.
• Arizona Hummer Tours
2934 W Evans
Phoenix, AZ 85053
Ph (602) 692-7124
Arizona's Best Hummer Adventure! Explore the Sonoran Desert, Indian ruins and turquoise mine. Descend Hummer Hill! Exciting, beautiful and informative all rolled into one.
For more Information Click Here
Tourist Information – Tempe/Phoenix's East Valley Arizona
Our Arizona accommodations are the perfect start to your exploration of Phoenix – you'll feel like you are staying in a Tempe resort! The Phoenix area's elevation is 1,117 feet and is located in the heart of the Sonoran Desert. It is a sprawling metropolitan desert area that extends from trendy Scottsdale in the northeast, to Glendale and numerous expanding towns in the west. In the heart of the Greater Phoenix area is Tempe, high action university town-home to Arizona State University. To the east lie cities including Chandler, Gilbert, Queen Creek and Mesa. Desert mountains surround the area, creating "The Valley of the Sun." There are six lakes within a 75-minute drive of Tempe/Phoenix.
The Phoenix Convention Center offers more than 900,000 square feet of meeting and event space and more than two million in total square footage, making it one of the top 20 convention venues in the United States. The 24-acre Phoenix Convention Center, in the heart of Copper Square, has been hosting national and regional conventions and trade shows as well as consumer events and theatrical productions since it opened in 1972. And, as Phoenix has undergone tremendous growth through the years by attracting high-technology businesses, transplants from other states, and an increase in tourism, so has the Phoenix Convention Center. In the mid-90s the Phoenix Convention Center embarked on an ambitious $32 million renovation project to update and enhance its image and keep the facility competitive for convention and trade show business. The massive interior and exterior refurbishing included the addition of 60,000 square feet of shaded patio area including a 15,000 square foot tent and flanking galleries on elegant Symphony Hall Terrace. An additional $1.5 million interior renovation incorporated Southwest accent colors including burgundy, sage, and muted tones of slate and gold. The unique carpet pattern represents the city's vibrant growth, with a digitized pattern incorporating a distinctive aerial view of downtown Phoenix.
Phoenix Convention and Visitors Bureau
400 E. Van Buren Street, Suite 600
Phoenix, AZ 85004
Ph (877) CALLPHX
Enjoy the sun-filled days and starlit evenings of Phoenix. You 'll find everything from world-class dining to exhilarating adventure, trendy shopping, modern nightlife and enriching culture.
909 E. Apache Blvd
P.O. Box 28500
Tempe AZ, 85285-8500
Ph (480) 967-7891
Fax (480) 966-5365
Area Worship
5757 North Central Avenue
Ph: (602) 707-5757
8620 North 7th Street
Ph: (602) 944-3375
745 East Maryland Avenue #120
Ph: (602) 265-8888
Medical Concerns
3229 East Greenway Road
Suite 102
Phoenix, AZ 85032
Ph (800) NEXTCARE
Pharmacies
925 West Baseline Road
Tempe, AZ 85283
480-820-1990
1424 West Baseline Road
Tempe, Arizona 85283
(480)897-9774
Hospitals
1500 S. Mill Avenue
Tempe, AZ 85281
Ph (480) 784-5500
1400 S. Dobson Road
Mesa, AZ 85202
Ph (480) 512-3000
1930 E Thomas Rd
Phoenix, AZ 85016
Ph (602) 532-1000
1919 East Thomas Road
Phoenix, AZ 85016
Ph (602) 546-1000, Toll Free: (888) 908-5437 (KIDS)
• Visitors Medical Clinic making hotel calls
Ph (480) 947-2409
For more Information Click Here
Events
Fall Arizona Restaurant Week
Throughout Greater Phoenix
---
Summer Ends Music Festival
Tempe Beach Park, Tempe
---
ArtFest of Scottsdale
Downtown Scottsdale. Time to be determined.
---
NASCAR Quicken Loans Race For Heroes 500
Phoenix International Raceway, Avondale
---
Polar Express
Grand Canyon Railway, Williams. November 6, 2016 – January 3, 2017
---
Las Noches de las Luminarias
Desert Botanical Garden, Phoenix. November 27, 2016 – December 31, 2016.
---
Circle K New Year's Eve Block Party
Mill Avenue District, Tempe.December 31, 2016
---
Restaurants
Begin your day at Hotel Tempe's own PJ's Cafe for a free Full Hot Arizona Breakfast Buffet (7:30am-10:00am) and then end your day in PJ's Cafe for a relaxing Free Evening Social Hour (5-6:30pm). Hotel Tempe also offers suite room service with sandwiches and more. The Tempe/Phoenix-area has a virtually endless choice of exceptional worldwide cuisine. Even the most critical tongue will be satisfied be it by Mexican, Italian, Western, American or any other kind of Ethnic food you may be looking for:
Tempe/Phoenix Area:
Fast Food:
Carl's Jr
McDonald's
Waffle House
Food Court at Arizona Mills Mall
Recommended "Top 10″
Joe's Crab Shack
1606 West Baseline Road
Tempe, AZ 85283
Ph (480) 345-0972
Joe's Crab Shack serves more than a half a dozen different crabs year 'round. Blue crabs, Stone Crabs, Soft Shell Crabs, Alaskan King Crab Legs and Dungeness Crabs … a real delicacy for crab lovers. Don't like crabbin'? Joe's also knows shrimp, fried seafood, chicken and steak. Salads, pasta and poor-boys are also served up. Enjoy a hearty bowl of Joe's gumbo on the open-air deck. The perfect place for seafood and fun!
Claim Jumper
1530 W Baseline Rd
Tempe, AZ 85283
Ph (480) 831-8200
Claim Jumper Restaurants are popular with a large audience including families, children, seniors and business professionals. Their friendly environment is ideal for celebrating special occasions, hosting a business lunch or gathering for a delicious meal with friends and family.
Rainforest Cafe
5000 South Arizona Mills Circle
Tempe, AZ 85282
Ph (480) 752-9100
Rainforest Cafe is A Wild Place to Shop and Eat! The unique restaurant and retail concept is an adventure through the most realistic indoor rain forest ever created! Discover amazingly lush surroundings, cascading waterfalls, and beautiful giant aquariums. Savor the fresh, original menu selections, influenced by the cuisines of Mexico, Asia and the Caribbean.
PF Changs
F740 South Mill Avenue
Tempe, AZ 85281
Ph (480) 731-4600
Fresh, contemporary and consistently outstanding are the trademarks of P.F. Chang's China Bistro. The P.F. Chang's experience is a unique combination of Chinese cuisine, attentive service, wine, and tempting desserts all served in a stylish, high-energy bistro.
Aunt Chilada's
2021 W. Baseline Road
Tempe, AZ 85283
Ph (602) 431-6470
Today, Aunt Chilada's not only carries on that century-old tradition of heartfelt Southwestern hospitality, but also dishes out a large helping of fun along with the finest Mexican food this side of the border. Now, Aunt Chilada's has added a little " algo differente" the Palapa Bar.
McCormick & Schmick's operates a variety of full service restaurants which feature 30 different varieties of fresh seafood. Menus are printed daily, based on product price and availability, usually featuring between 85 to 100 freshly prepared items emphasizing not only traditional seafood, meat and poultry, but also salads and pastas.
Z Tejas
20 W. 6th Street
Tempe, AZ 85281
Ph (480) 377-1170
The atmosphere is as zesty as the menu. The restaurant is very open with a southwestern decorating theme. From a sizzling steak topped with Gorgonzola butter to a blackened tuna dish that is so zesty it is named Voodoo Tuna, to the Jamaican Jerk Chicken, the flavor is unbeatable. The chefs pull from a variety of food styles to create a distinct menu that will definitely satisfy.
Rustler's Rooste Steak House
8383 South 48th Street Phoenix, AZ 85044
Ph (602) 431-6474
www.rustlersrooste.com
Rustler's Rooste was established in 1971. The legend goes that the original site, atop a butte in the foothills of South Mountain, was a hideout for cattle rustlers. Today, it is Arizona's Legendary Cowboy Steakhouse. Rustler's Rooste serves the finest steaks, ribs, chicken and the freshest seafood. Appetizers are different and delicious. (Yes, they have rattlesnake).
Roy's Hawaiian Fusion Restaurant
7151 W Ray Road
Chandler, AZ 85226
(480) 705-7697
www.roysrestaurant.com
Roy's Hawaiian Fusion Cuisine promises to make for one of the most unique fine dining experiences available. Nowhere else will you find Roy's Classic Hawaiian Martini, Yamaguchi Sushi, Misoyaki Butterfish and Chocolate Soufflé all at the same table. So escape to paradise and experience the world's finest cuisine deliciously wrapped in a Hawaiian state of mind.
House of Tricks
114 East 7th Street
Tempe, AZ 85281
Ph (480) 968-1114
www.houseoftricks.com
The award-winning House of Tricks Restaurant, nestled in the heart of downtown Tempe near popular Mill Avenue, Gammage Auditorium and the ASU campus. Enjoy the patio, outdoor tree-covered bar, or inside one of our two historic bungalows. Perfect for a getaway lunch, intimate gathering, private business meeting, romantic dinner or happy hour celebration, House of Tricks has been a favorite treasure of locals and visitors alike for almost 25 years.
For more Information Click Here