Best Western InnSuites Albuquerque Airport InnSuites Hotel & Suites
Book a Boutique Hotel in Albuquerque
Sits at the entrance to Albuquerque International Sunport Airport (ABQ), offering a quiet Warm superb Southwestern feeling upon arrival, along with friendly smiles. Heated year round spa, seasonal pool, fitness center, adjacent 24-hour Village Inn Restaurant. Free Airport Transportation. Visit Santa Fe, Casinos, Sandia Tram Skyride, Atomic Energy Museum, University of New Mexico (UNM), Petroglyph National Monument, Al Unser Museum, Rio Grand Bio Parks, Cliffs Amusement Park, Balloon Fiesta Museum and more.
2400 Yale Boulevard SE • Albuquerque, NM 87106 | Phone: 505.242.7022
Amenities
Best Western Albuquerque Airport InnSuites Hotel & Suites offers outstanding accommodations and services with award-winning value at the Albuquerque International Airport.
Best Western Albuquerque Airport InnSuites Hotel & Suites is certain to please both the busy executive and leisure traveler with our amenities, which include:
Shuttle within a 5 mile radius on the half hour
24 Hour Airport Shuttle
Free Hot Breakfast Buffet
Free High Speed Internet/WiFi
Free Local Newspaper
Free Royal Cup
Free Coffee
Free Evening Social Hour w/snacks & beverages
Walking distance to numerous restaurants and businesses
Free 24-hour business center
Fitness center, pool/whirlpool spa
Free guest parking
Valet and coin operated laundry
Cloud 9 Pillowtop Beds with Deluxe Bedding Collection
Pet Friendly (Maximum two pets per suite)
If you're looking for the very best deal of Albuquerque hotels, come stay at InnSuites featuring your suite choice value of Studios, Two-room Executive/Family Suites and Romantic Presidential King Suites feature Whirlpool baths. Whether you're travelling for business or pleasure, at InnSuites we give comfort with ease for all visitors to our hotel visiting the Albuquerque area.
Contact
Best Western Albuquerque Airport InnSuites Hotel & Suites is here to serve you 24 hours a day.
Please contact us by phone, email.
Our contact information is:
2400 Yale Boulevard SE, Albuquerque, NM 87106
Phone: 505.242.7022
albuquerque@innsuites.com
Smoking – Non Smoking
On behalf of Best Western Albuquerque, we would like to welcome you to our non-smoking hotel.
We strive to ensure all guests experience a comfortable, memorable and safe stay with us.
Please call ahead to ensure areas that permit smoking.
We look forward to serving you.
Pet Etiquette
Best Western Albuquerque Airport InnSuites Hotel & Suites is Pet Friendly.
On behalf of our four-legged management team at Best Western Albuquerque, we would like to welcome you and your two-legged handlers to our pet friendly hotel.
At our hotel, we understand that owners want and enjoy the comfort of their animals while traveling away from home.
We strive to ensure all guests (animal and human) experience a comfortable, memorable and safe stay with us.
Remember, if you have any questions, please feel free to ask us to ensure your stay is a Purrrfect Place to Paws.
Our Pet Guidelines:
Maximum two pets per suite
Our pet fee is $20 per stay for 1-2 pets and an additional $20 per pet per above 2.
Enjoy your pet welcome treat—we have had rave reviews about them!
If your owners are going to leave the room unattended, please stay in your crate if possible. Also, please have your owners contact the front desk so in case of an emergency, we can contact them by cell phone. There is nothing worse than being left to bark to go to the bathroom!
If walking around the property, all humans must be attached to your leash.
Unfortunately the hotel does not allow us (pets) to be in the restaurant, pool area, exercise facility, or meeting room.
If you have an accident on the grounds of the property, please talk to your owner about picking up after you. Remember, they were once young and didn't always make it to the bathroom either!
If you use cat litter, please don't put it down the toilet—the plumber doesn't like it!
The best place to eat in a hotel room is on the tile—it is non-porous and easy to clean.
If staying more than 1 night, please have your owner arrange a time with housekeeping so the hotel's room attendants can service the room. Room attendants are not allowed to clean the room with a pet in the room.
If you don't behave and cause damage to the room, your owners will incur fees for damage to the room, or if significant cleaning is needed prior to renting of the room.
If you need a vet, ask the front desk.
Guide dogs will be given access to all guest areas including public spaces and restaurants—they are very very special in the work they do!
Please call ahead to ensure we have availability and pet friendly studios available.
We look forward to serving you.
Best Western Albuquerque Airport Specials
Globalquerque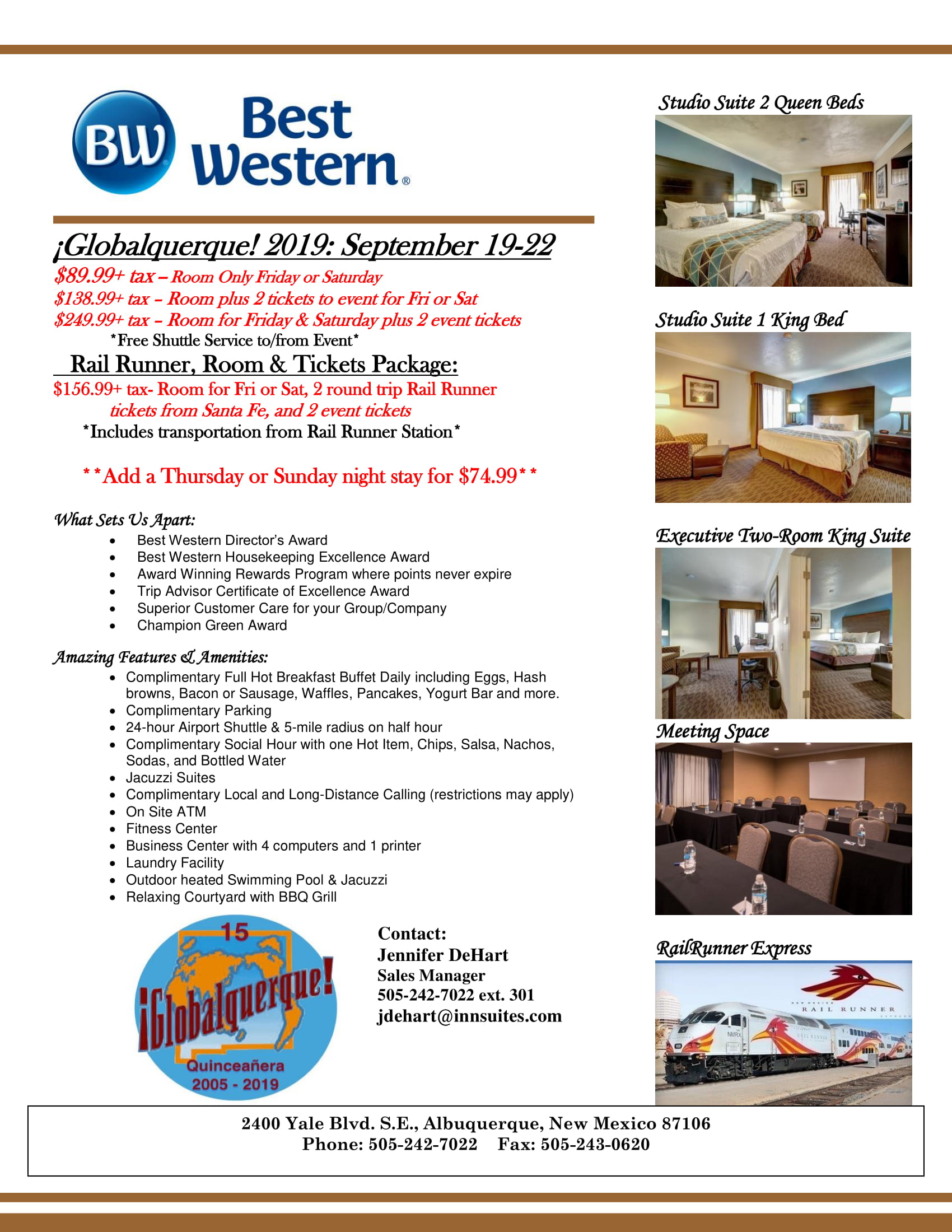 ---
Rail Runner Special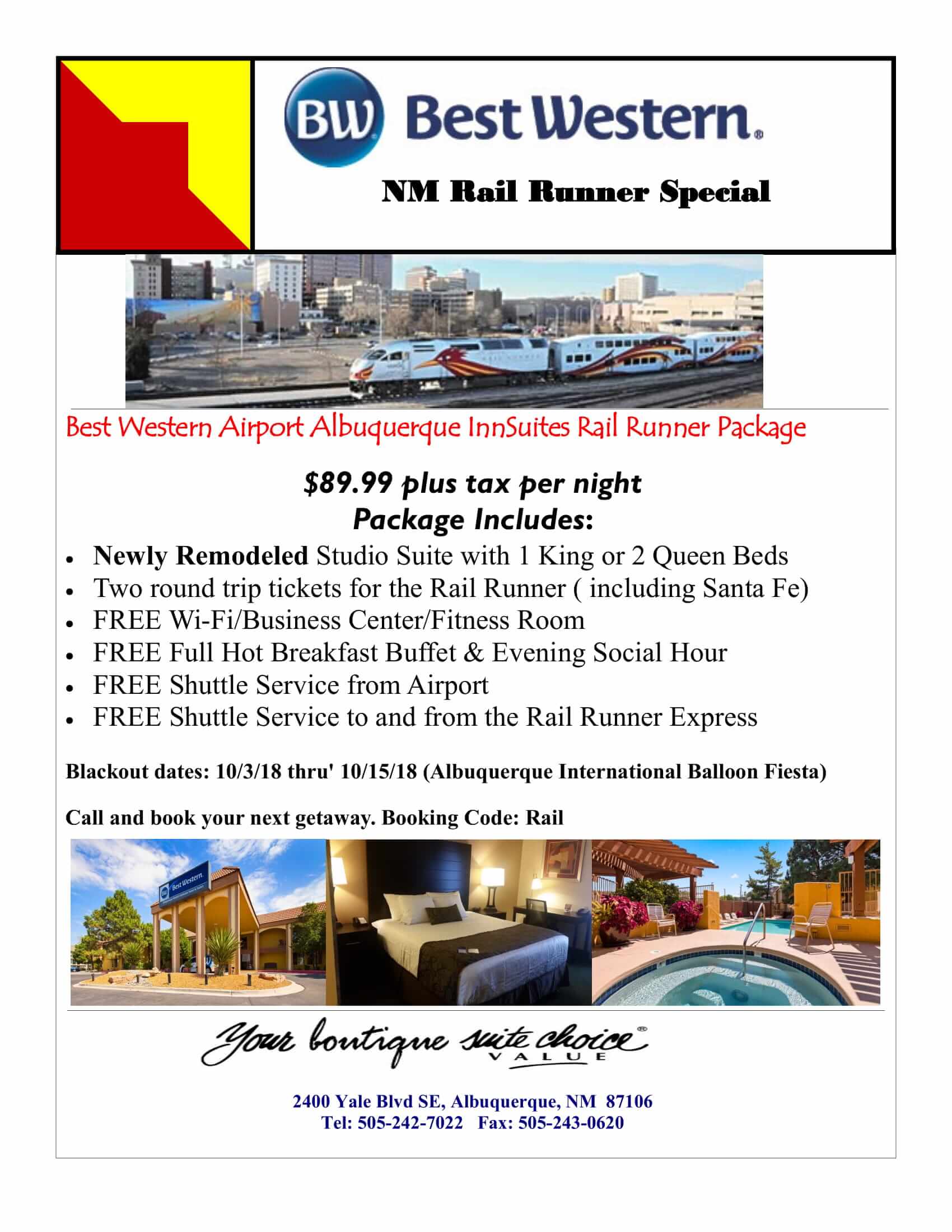 ---
Best Western Airport Albuquerque InnSuites Rail Runner Package
Package Includes:
Studio Suite with 1 King or 2 Queen Beds
Two round trip tickets for the New Mexico Rail Runner Express
FREE Wi-Fi
FREE Full Hot Breakfast Buffet
FREE Shuttle Service from 4:30am to 11:30pm
FREE Shuttle Service to and from the Rail Runner Express
Package Price: $89.99/ night
Blackout dates: 10/1/18 thru' 10/15/18 (Albuquerque International Balloon Fiesta)
All Studios & Suites include:
FREE Convenient WiFi and hi capacity high speed internet
FREE Hot healthy breakfast buffet featuring waffle & yogurt bars, delicious eggs, potatoes and more
FREE evening social hour: beer, wine, soda and light snacks
FREE airport transportation at airport properties
FREE local & long distance telephone calls to US, Canada and Mexico (up to 20 minutes)
Cloud 9 comfortable upgraded bedding collection with pillowtop beds & triple sheeting
Microwave, refrigerator large flat screen HDT, coffee maker, tea and more
---
Pet Special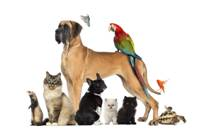 We understand your pet is part of the family, so we say, bring them along! Special discounted rates include treats, chew toys and feeding bowls for your Pet. So pack the leash and enjoy a vacation with your furry friend at our pet-friendly hotel! Make your reservations directly today or call for details.
CODE: PET15
---
Family Fun Vacation
Bring your family to the Fun in the Sun! Kids under 17 years of age stay FREE! Kids will enjoy a special gift such as coloring books, crayons, and toys just for them, and parents will appreciate special savings on amazing suites.
CODE: FAM15
---
Extended Stay Hotel Deals
Stay 7+ Nights & Save 15% or more!
Stay 7 nights or more and save 15% or more! (Requires prepayment upon check-in and no early checkout refunds) good at 8 participating InnSuites Hotels (Phoenix, Tempe, Tucson Foothills, Tucson City Center, Yuma, Ontario/LA, Albuquerque). Enter code ML at time of booking under comments. Not valid with other coupons or offers. Groups and Special Events excluded.
Ask about Promotions and Special Rates for Medical/Government/Miltary too!
Tourist Information for our Albuquerque Hotel Guests
The true Southwest awaits you in Albuquerque, New Mexico.
Come immerse yourself in our rich culture and heritage, rooted in centuries of history.
Soak in our blue skies and sun that shines 310 days a year- perfect for outdoor activities.
Breathe in the high desert air scented with sage and piñon, and you'll understand why Albuquerque, NM is a destination like no other.
Whether you want to shop for authentic Native American jewelry, try hot air ballooning, explore living history museums, enjoy Albuquerque events and festivals, sample local cuisines or hit the golf courses and spas, Albuquerque has you covered.
Albuquerque CVB
20 First Plaza NW Suite 601
Albuquerque NM 87102
Ph (800) 284-2282
Albuquerque Chamber of Commerce
115 Gold Ave. S.W.
Albuquerque, New Mexico 87102
Ph (505) 764-3700
For more Information Click Here
Restaurants
Begin your day at Best Western Albuquerque's own spacious Lobby for a Free Full Hot New Mexico Breakfast Buffet (6-10am) and then end your day in our spacious Lobby for a relaxing Free Evening Social Hour (5-6:30pm).
Albuquerque's blend of Spanish, Mexican, Native American, Anglo, and Asian influences makes this a vibrant multicultural metropolis with a virtually endless choice of exceptional worldwide cuisine. Even the most critical tongue will be satisfied be it by Mexican, Italian, Western, American or any other kind of Ethnic food you may be looking for:
Walking Distance:
Applebee's Fuddrucker's International HS of Pancakes Village Inn
Waffle House
Albuquerque area:
Tucanos, Yanni's, El Norteno, The Artichoke Café, Great American Land and Cattle Steak Restaurant, Los Cuates Mexican Restaurant, Rancher's Club of New Mexico, Trombino's Bistro Italiano, Mr. Powdrell's Barbeque House, Bangkok Café Thai, Route 66 Diner American Restaurant, Applebee's
Fast Food:
McDonald's, Burger King, Taco Bell, Wendy's, Pizza Hut, Domino's
Descriptions of Our "Top 10?
Tucanos Brazilian Grill
110 Central Avenue, S.W.,
Albuquerque, NM 87102
Ph (505) 246-9900
The Brazilian tradition of grilling, or CHURRASCO (shoe-HAS-ko), is a fusion of South American and European cultures. At Tucanos, meats and vegetables are carefully selected and tastefully seasoned and cooked on skewers over open-flame grills. The skewers are then brought to your table where sizzling portions are sliced onto your plate. You may choose as many different flavors and cuts as you like.
Yanni's Mediterranean Grill & Opa Bar
3109 Central Ave. NE,
Albuquerque, NM 87106
Ph (505) 268-9250
"A top Greek restaurant in the Southwest." – Southwest Airlines Magazine. Yanni's serves PRIME beef – the very best available. Live music in the Opa Bar
Cervantes Mexican Restaurant
5801 Gibson Blvd SE
Albuquerque, NM 87108
Ph 505-254-9414
El Bruno's
8806 4th Street NW
Albuquerque, NM 87114
Ph. (505) 897-0444
El Bruno's restaurante y cantina has been in business since 1975, serving a Varity of New Mexican style favorites such as enchiladas, tacos, burritos y chimichangas, Los Burgers, Fajitas and much more.
The Artichoke Cafe
424 Central SE
Albuquerque, New Mexico 87102
Ph (505) 243-0200
Known for good service and French, contemporary American, and Italian dishes prepared, whenever possible, with organically grown ingredients. The building is about a century old, in the historic Huning Highland district on the edge of downtown, but the decor is uptown modern.
Great American Land and Cattle
1550 Tramway Blvd NE
Albuquerque, NM 87112
Ph (505) 292-1510
An award winning steakhouse, where you will enjoy views of the city, especially from the second floor. Known for their large chicken fried steak, the selection of other meats is impressive and the portions generous.
Los Cuates Mexican Restaurant
5016-B Lomas NE
(505) 268-0974
Voted by the Albuquerque Journal "One of the best places to eat in the Duke City" since 1993. Typical Mexican food. The chili is vegetarian – unless meat is requested.
Rancher's Club of New Mexico
1901 University Blvd NE
Albuquerque, NM 87102
Ph (505) 884-2500
Voted best steak house and service in Albuquerque, proud recipient of both the Dirona and AAA Four Diamond awards. Lounge entertainment.
Trombino's Bistro Italiano
5415 Academy Rd. NE
Albuquerque, NM 87109.
Ph (505) 821-5974
Chefs prepare more than 35 Italian specialties in exhibition kitchens while guests relax in a casual atmosphere. Enjoy the strolling opera singer. Entrees include pastas, veal, seafood, steaks, roasted chicken, pizza baked in wood-burning ovens, soups, and hard-to-resist desserts.
Mr. Powdrell's Barbeque House
5209 4th Street NW, Albuquerque, NM 87107
Ph (505) 298-6766
Mr. Powdrell comes from a long line of Southern Barbeque and Ranch-Style chefs. Originally from Louisiana, Mr. Powdrell moved to East Texas then West Texas, before finally settling in New Mexico. His Original, Authentic Southern-style Barbeque is the result of a lifetime spent perfecting his family's original barbeque recipes.
For more Information Click Here
Outdoors
Get ready for a day of fun and adventure!
InnSuites is the perfect gateway to the exciting array of attractions and activities in the Albuquerque New Mexico/Santa Fe/Taos area.
Enjoy hands-on museums including Albuquerque Museum of Art & History and the National Atomic Museum.
Take in a game of golf or watching a University of New Mexico game.
InnSuites places you just minutes from the area's most celebrated sights.
Enjoy quick access to nearly every museum, Albuquerque business, shopping venue, and park imaginable.
Looking for a fun adventure?
Allow the front desk to arrange a day of high desert exploration, horseback riding or hot–air ballooning.
Enjoy a visit to Rio Grande Botanical Gardens, Sandia Peak Tram or breath-taking sunset.
Some of the exciting attractions near these renowned Albuquerque hotel accommodations include:
Mountain Biking/Rock Climbing/Whitewater Rafting/Ice Caves
Mountain Skills Rock Climbing
P.O. Box 206
Arroyo Seco, New Mexico 87514
Ph (505) 776-2222
No experience necessary. General introduction to technique and procedure. Hands on instruction include: Basic Knots, Belay and Rappel techniques, climbing communication, safety procedures, and moving on the rock. This course is designed to be FUN for everyone!
Sandia Peak Mountain Biking
Crest Scenic Byway 536
Albuquerque, NM 87122
Ph (505) 242-9052
Hit the slopes, bike the trails, move closer to the changing seasons, and experience the symphony of colors at sunset. And on your way down visit the city that draws its energy from our peaks.
Wolf White Water Rafting
4626 Palo Alto SE
Albuquerque, NM 87108
Ph (505) 262-1099
A pioneer in river education since 1975 and Nationally Certified staff can offer you the best in Canoe and Kayak instruction. If learning to Kayak or Canoe isn't your thing, you can join one of our professional guides for an exhilarating raft ride down the Rio Grande through the breathtaking scenery of northern New Mexico.
Ice Caves
12,000 Ice Caves Rd
25 mi SW of Grants, Hwy 53
Grants, NM 87020
Ph (505) 783-4303
For a real experience in contrast, visit the Ice Cave and Bandera Volcano, "The Land of Fire and Ice." Situated on the Continental Divide-walk through the twisted, old growth Juniper, Fir and Ponderosa Pine trees, over the ancient lava trail to the Ice Cave. Natural layers of ice glisten blue-green in the reflected rays of sunlight. Another trail winds around the side of the Bandera Volcano to view one of the best examples of a volcanic eruption in the country.
For more Information Click Here