Best Western InnSuites Yuma Mall Hotel & Suites
Yuma Mall Hotel & Suites AZ
Located in the new largest SW AZ regional Yuma Palms Mall, just minutes from Old Mexico, Colorado River Water Playground, Historic Yuma Territorial Prison Park, Sand Dunes, Casinos, Old Town Yuma, Bases and adjacent to varied entertainment, dining and mall shopping. Year round heated pool/spa, tennis, basketball, PJ's poolside Sports Bar & BBQ, with free airport transportation.
Housekeeping Excellence Award
1450 Castle Dome Ave. • Yuma, AZ 85365 | Phone: 928-783-8341
BEST WESTERN InnSuites Yuma Mall Accommodations
The BEST WESTERN InnSuites Yuma Mall strives to provide our guests with the highest quality of service, exceptional value and free hotel amenities you expect when you vacation in the Yuma area. Our personable staff is available 24 hours a day to assist guests with any request that they may have during their hotel stay in the Yuma area.
BEST WESTERN InnSuites Yuma Mall Hotel & Suites Amenities:
Free Hot Healthy Full Breakfast Buffet
Free Daily Newspaper
Free Evening Social Hour
Free Business Center with High Speed Internet Computers and Printer plus Limited Free Copies and Faxes
Copies and Faxes
Free Fitness Center
Free Manager's Barbeque the first Wednesday of every month
Free Barbeque Gas Grills
Free Parking/Bus, Car, Truck, RV
Heated Pool year-round
Patio Area / Sundeck / Basketball
Meeting Room Facilities
Tennis Courts
Walking and Jogging available nearby
Guest Laundry, Ice Machines, Beverages/Snacks
Pet Friendly subject to availability upon request
Patio Area to relax
24 hour Front Desk
Safe Deposit Box
These and many other free and convenient hotel amenities make the BEST WESTERN InnSuites Yuma Mall Hotel & Suites "Your Boutique Suite Choice Value"!
We appreciate you, and it shows.
BEST WESTERN InnSuites Yuma Guestrooms
BEST WESTERN InnSuites Yuma Studio InnSuites, 2-Room Executive/Family Suites and Presidential Jacuzzi Suites Accommodations:
Pillowtop Cloud 9 Beds with Deluxe Bedding
Flat screen TV's with Premier Cable Movie Channels
Microwave/Refrigerator
Coffee/Tea Maker with Coffee & Tea
Free Hi-Speed and Wi-Fi Internet Access
Upgraded Bath amenities
Sofa bed in the Living Room of many Suites
AM/FM ipod Clock Radios
Hairdryer
Air Conditioning and Heat with Wall-mounted Thermostat
Iron and Board
Handicap Accessible
Free Local Phone Calls
Smoking/Non-Smoking subject to availability upon request
These and many other free and convenient suite amenities make the BEST WESTERN InnSuites Yuma Mall Hotel & Suites "Your Boutique Suite Choice Value"!
We appreciate you, and it shows.
BEST WESTERN InnSuites Yuma Contact
Please contact us by phone or email:

1450, Castledome Ave, Yuma, Arizona 85365.

Phone: 928-783-8341

Email: yuma@innsuites.com
BEST WESTERN InnSuites Yuma Smoking
On behalf of BEST WESTERN InnSuites Yuma, we would like to welcome you to our smoking friendly hotel.
We strive to ensure all guests (smoking and non-smoking) experience a comfortable, memorable and safe stay with us.
Please call ahead to ensure we have availability and smoking studios and suites available.
We look forward to serving you.
BEST WESTERN InnSuites Yuma Non Smoking
On behalf of BEST WESTERN InnSuites Yuma, we would like to welcome you to our non-smoking friendly hotel.
We strive to ensure all guests (non-smoking and smoking) experience a comfortable, memorable and safe stay with us.
Please call ahead to ensure we have availability and non-smoking studios and suites available.
We look forward to serving you.
BEST WESTERN InnSuites Yuma Pet Friendly
BEST WESTERN InnSuites Tucson Foothills Hotel & Suites is Pet Friendly.
On behalf of our four-legged management team at BEST WESTERN InnSuites Yuma, we would like to welcome you and your two-legged handlers to our pet friendly hotel.
At our hotel, we understand that owners want and enjoy the comfort of their animals while traveling away from home.
We strive to ensure all guests (animal and human) experience a comfortable, memorable and safe stay with us.
Remember, if you have any questions, please feel free to ask us to ensure your stay is a Purrrfect Place to Paws.
Our Pet Guidelines:
Our pet fee is $20 per stay for 1-2 pets and an additional $20 per pet per above 2.
Enjoy your pet welcome treat—we have had rave reviews about them!
If your owners are going to leave the room unattended, please stay in your crate if possible. Also, please have your owners contact the front desk so in case of an emergency, we can contact them by cell phone. There is nothing worse than being left to bark to go to the bathroom!
If walking around the property, all humans must be attached to your leash.
Unfortunately the hotel does not allow us (pets) to be in the restaurant, pool area, exercise facility, or meeting room.
If you have an accident on the grounds of the property, please talk to your owner about picking up after you. Remember, they were once young and didn't always make it to the bathroom either!
If you use cat litter, please don't put it down the toilet—the plumber doesn't like it!
The best place to eat in a hotel room is on the tile—it is non-porous and easy to clean.
If staying more than 1 night, please have your owner arrange a time with housekeeping so the hotel's room attendants can service the room. Room attendants are not allowed to clean the room with a pet in the room.
If you don't behave and cause damage to the room, your owners will incur fees for damage to the room, or if significant cleaning is needed prior to renting of the room.
If you need a vet, ask the front desk.
Guide dogs will be given access to all guest areas including public spaces and restaurants—they are very very special in the work they do!
Please call ahead to ensure we have availability and pet friendly studios available.
We look forward to serving you.
BEST WESTERN InnSuites Yuma Specials
Romantic Suit Package
---
Graduation
---
Displacement (Life Happens!)
---
All Studios & Suites include:
FREE Convenient WiFi and hi capacity high speed internet
FREE Hot healthy breakfast buffet featuring waffle & yogurt bars, delicious eggs, potatoes and more
FREE evening social hour: beer, wine, soda and light snacks
FREE airport transportation at airport properties
FREE local & long distance telephone calls to US, Canada and Mexico (up to 20 minutes)
Cloud 9 comfortable upgraded bedding collection with pillowtop beds & triple sheeting
Microwave, refrigerator large flat screen HDT, coffee maker, tea and more
---
Pet Special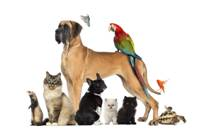 We understand your pet is part of the family, so we say, bring them along! Special discounted rates include treats, chew toys and feeding bowls for your Pet. So pack the leash and enjoy a vacation with your furry friend at our pet-friendly hotel! Make your reservations directly today or call for details.
CODE: PET15
---
Family Fun Vacation
Bring your family to the Fun in the Sun! Kids under 17 years of age stay FREE! Kids will enjoy a special gift such as coloring books, crayons, and toys just for them, and parents will appreciate special savings on amazing suites.
CODE: FAM15
---
Tourist Information for our Yuma Hotel Guests
Yuma is nestled in the Yuma and Gila valleys of southern Arizona, offering a climate that blends pleasant desert sunshine with the cool waters of the Colorado River. Yuma's clean air affords residents and visitors alike a year round vista of surrounding rugged mountains.
Ranked by Money Magazine as one of the top places to live in the United States, no wonder many of the people who visit Yuma one day return to raise a family, retire in comfort, or simply take advantage of being part of one of America's fastest growing cities.
Mild winters and temperate summers make Yuma an ideal destination for all your vacation needs.
BEST WESTERN InnSuites can help arrange for a variety of recreational activities and cultural attractions.
Enjoy Yuma's soothing waters or lush golf courses, diverse selection of restaurants and shopping boutiques and natural wildlife and breathtaking scenery.
For more Information Click Here
Yuma Restaurants
You'll love the dining experience in Yuma at PJ's Café for a free hot Arizona breakfast buffet (6:30-10am) and PJ's Lounge for free evening social hour (5-6:30pm) with food service available until 9:00pm. Likewise, Yuma has growing multicultural options
Walking Distance:
Buffalo Wild Wings

Chuck E Cheese's
Cold Stone Creamery
Del Taco

Famous Dave's
Hawaiian Barbeque

Olive Garden

Panda Express
Yuma Area:
Lute's Casino, Burgers & Beer, Red Lobster, Applebee's, Fortune Cookie, Mi Rancho Restaurant, Papagallo Mexican Restaurant, Golden Corral, Outback Steakhouse, Chretin's Mexican Food, Hometown Buffet, Denny's
Fast Food:
In-N-Out Burger, Junga Juice, Jack-in-the-Box, Subway, Kentucky Fried Chicken, Wendy's, Arby's, Peter Little Caesar's, Domino's Pizza, McDonalds, Starbucks
Descriptions of Our "Top 10″
Lute's Casino
221 S Main St
Yuma, AZ 85364
(928) 782-2192
www.lutescasino.com
The coolest place in Historic Downtown Yuma to eat, drink and watch the live entertainment with friend and family. If you love to watch, then we have created the best place to meet people and for families to come together. So come in and enjoy a few beers and snacks. There's always something fun going on at Lutes Casino!
Famous Dave's
1501 South Yuma Palms Parkway
Yuma, AZ 85365
Ph. (928) 329-7600
Try the BBQ that has won over 200 awards.
Applebee's Neighborhood Grill & Bar
1100 E. 16th Street?
Yuma, AZ 85364
Ph. (928) 782-7474
When you come to Applebee's, you're getting more than friendly service in a hometown atmosphere. You're also getting the best food in town. From American classics like the Applebee's House Sirloin to signature dishes like the Crispy Orange Skillet and Oriental Salad, Applebee's is the place for great food and good times.
Outback Steakhouse
328 E. 16th Street
Yuma, AZ 85365
Ph. (928) 376-7711
Outback Steakhouse serves the freshest food possible, using only the highest quality ingredients; from our fresh imported Parmesan cheese, grated fresh daily, to our imported virgin olive oil. Our fresh Midwestern grain fed beef is the highest quality choice beef available and we serve only fresh, never frozen chicken and fish.
Red Lobster Restaurant
1601 S. 4th Ave
Yuma, AZ 85364
Ph. (928) 782-4000
You always get meticulously selected seafood, delivered right from the coast of New England to your door.
Cracker Barrel
1780 S. Sunridge Drive
Yuma, AZ 85365
Ph. (928) 343-1988
Enjoy a slice of rich, chocolate cake baked in our kitchen using real Coca-Cola. They served it up warm with a scoop of premium vanilla ice cream. Great home-cooked food.
Texas Roadhouse Grill
594 E.16th St.
Yuma, AZ. 85365
Ph. (928) 329-7427
One of Yuma's Newest Dining Pleasures. Enjoy great food and atmosphere!
Chretin's Mexican Food
485 S. 15th Ave.
Yuma, AZ. 85365
Ph (928) 782-1291
Best Mexican Food in Town!
Logan's Roadhouse
1519 S. Yuma Palms Pkwy
Yuma, AZ 85365
Ph. (928) 782-9200
Logan's Roadhouse revisits the classic roadhouse from days past and brings it to life in a modern way through its welcoming hospitality, attentive service and kickin' upbeat atmosphere.
Come as you are, grab an ice-cold longneck, enjoy a fresh, mesquite-grilled steak, tap your toes to the rockin' roadhouse sounds. Make lifelong friends.
Mi Rancho Restaurant
2701 S 4th Ave
Yuma, AZ 85364
Ph. (928) 344-6903
Great Mexican Food with good variety.
For more Information Click Here
Yuma Arizona Outdoor Attractions & Activities
Riverfront, mountain views and beautiful rugged desert adventure–Yuma has it all. With the most sunny days of any city on Earth, Yuma is the ideal location for jumping-off spot to hundreds of square miles of wilderness in the Imperial, Kofa and Cibola national wildlife refuges, and the gateway to the Imperial Sand Dunes – a popular movie location from the days of Rudolph Valentino to Star Wars. With dry warm fantastic year-round weather and mild winters make Yuma a year-round destination. Only minutes from the hotel are all kinds of activities ranging from golf to boating to off-roading.
With the Colorado River at its doorstep, Yuma offers both year-round sunshine and water fun, from a quiet paddle to waterskiing. Yuma River Tubing can get you afloat in a tube or kayak right in town, or try Yuma River Tours for narrated wilderness boat trips or a lunch or dinner cruise on the Colorado King sternwheeler.
Just steps from downtown, you can wander through the Yuma East Wetlands, where nearly 500 acres of what was a trash-strewn jungle of non-native vegetation has been transformed into a beautiful wetlands area. Five miles of nature trails give access to this haven, which provides habitat for more than 330 species of birds and wildlife.
The Yuma Birding & Nature Festival, www.yumabirding.com, held annually in April, also provides an easy introduction to outdoor adventures in the area, including field trips to Mexico and California's Salton Sea.
Hiking/Biking Trails
The wide open spaces all around Yuma offer opportunities for hiking that range from a simple stroll to a rigorous wilderness challenge. Some "beginners" trails include the Painted Desert Trail at Imperial National Wildlife Refuge or a walk to see Arizona's only native palm trees at Palm Canyon on the Kofa National Wildlife Refuge. Even these easier walks may reward you with sightings of bighorn sheep, wild horses and burros, deer and other wildlife … but keep an eye peeled for crawly critters in vegetation or crevices.
For a walking tour in town, enjoy a paved multi-purpose trail running along about two miles of the riverfront, from the West Wetlands Park to Gateway Park, and along about five miles of the East Main Canal. The new three-mile nature trail winding through the East Wetlands can be reached by walking east under the Ocean-to-Ocean Bridge.
Wherever you choose to walk – but especially if you venture off the beaten path – make sure someone knows your plans, since cell service may not be available. The air is dry even when the weather is cool, so carry plenty of water for everyone, including pets. Desert temperatures can swing dramatically, so dress in comfortable layers so you can adjust to changing conditions.
Tours
Yuma River Tour
1920 Arizona Avenue
Yuma, AZ
Ph. 928-783-4400
Yuma River tours offers a wide variety of paddling itineraries, ranging from half day through six-day trips on sections of the Colorado River between Hoover Dam and Yuma. Their unique equipment includes canoes as well as several different styles and types of kayaks. All of their trips are on class 1 water that has current, but no whitewater – enjoyable for beginners as well as experts.
Buffalo Bus Tours
12557 South Frontage Rd
Yuma, AZ 85365
Ph. (928) 342-0015
Guided Tours with the most Experience in Mexico Travel (Sixteen Years). Shop, Dine and Have Fun. The Safe, Carefree Way to Travel to Mexico and Local Vicinities. Free Secured Parking!
Tour West America
333 South Main Street
Yuma, Arizona 85364
Ph. (928) 783-8888
Harris Tours
1336 S 4th Ave
Yuma, AZ 85364
Ph. (928) 782-7426
Free Spirit Tours
1410 W Michelle Ln
Yuma, AZ 85365
Ph. (928) 726-7000
Hunting
From elk to small game — and even waterfowl — few states enjoy the diverse hunting opportunities that Arizona offers. In the Yuma area, the primary prey species are bighorn sheep, mule deer, dove, quail and waterfowl.
Arizonans and nonresidents over the age of 14 need a valid license to hunt in the state. A person under 14 may hunt wildlife other than big game if accompanied by a licensed adult, but can only hunt big game if he or she completes a hunter education course.
Most types of hunting and fishing licenses are available online at the Arizona Game and Fish Department Web site, www.azgfd.gov, or at 300 dealers statewide. The website also offers detailed information on regulations, hunting areas and more. The Yuma regional office is located at 9140 E. 28th St., 928.342.0091.
Lifetime licenses (hunting, fishing, combo and trout stamp) are now available. You must have been a bona fide resident of Arizona for six months to buy one, but you can then hunt or fish in Arizona forever, even if you move elsewhere.
There are 2 shooting rates in Yuma. For more info on either, including the event schedule for the Adair range, call 928-726-0022 or 800-440-3892 or go to www.spragues.com
Dove Season is marked by the opening of date of September 1st each year. Yuma remains a prime dove-hunting area because of agriculture and the large amounts of acreage still devoted to grain farming on both sides of the border. Grain fields provide nesting cover and food for the two main species hunted here, the mourning dove and the white-winged dove. Mourning doves remain in the area year round, while white-wings migrate south to Mexico as crops are harvested and fall storms move in.
For more Information Click Here